Student Blog
Back to all posts
Posted on:
The time I tore my cruciate ligament but still made the best of my exchange by Elisa F.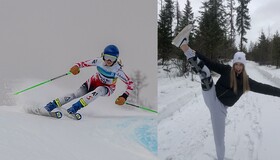 Hello! My name is Elisa and I am an Austrian ski racer. I found my passion for ski racing when I was about nine years old. Luckily, I never had a bad injury - until February 3rd.
It was my first race here in Canada. I came a week early to take part in the preparatory training. My host father, my younger host sister and I drove over 7 hours to Vernon to compete in the 4-day race at Silver Star. I was so excited to meet new people, but the misfortune happened on the first day. I can't remember exactly but according to witnesses I lost a ski and then rolled down the steep slope. I couldn't get up on my own and was picked up by (very nice) people from the ski patrol with a Skidoo. My host father then drove me to the hospital, where we waited a very long time for an x-ray. Luckily, I didn't break anything, but it was worse - inner ligament and cruciate ligament tear.
But since my host sister competed in the other three races, I stayed another 3 days in Silver Star, where I was allowed to make myself comfortable in a friend's hotel room. I had crutches and had to learn to walk with them. When I got home, my host sisters took very good care of me and I'm really lucky to have them.
Now, I no longer need crutches and can walk normally with a splint. Unfortunately, I had to change my sport class because obviously I can't do any sport. I have physio and am on the mend. I am happy that I can complete my exchange and that I will not have the surgery until the beginning of July at home in Austria! Thanks to all my friends who helped me and waited for me as I couldn't walk as fast as them but also try to make the best of my exchange.
Photo and blog post submitted by Elisa F. from Austria, who is a grade 10 student making the most of her time at Selkirk Secondary School in Kimberley.