Student Blog
Back to all posts
Posted on:
Winter Camp at Blue Lake by Kathrin K.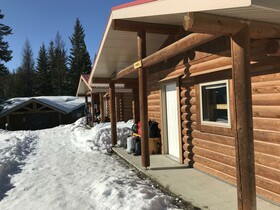 For the program activity in March, we went to Blue Lake Camp. The Elk Valley students went together with the Kimberley students, and it was really nice to get to know other international students better. We left Fernie on Saturday morning and had to ride on the bus for a pretty long time before arriving at Blue Lake Camp. From the last half hour or so before arrival we didn't have cell service anymore, and I thought it was pretty funny how everyone put there phones up as high in the air as possible, hoping to have service after all. When we got there we started with camp activities almost immediately. Everyone could choose between fire building, winter shelter building and a teambuilding activity. I did fire building, which was kind of unfortunate as everything was wet and I couldn't really get a fire to go. Then I did the teambuilding activity, which I thought was really fun. After that we had free time for a while, where we could choose between ice fishing, sledding or just chilling in our cabins. We went sledding which was a blast, and even our homestay coordinator Sophia went over the jump we built. Then it was time for dinner, and the food was amazing. As soon as it was dark we played a really fun game called "Mission Impossible" where only one person was allowed to use a flashlight and everyone else had to try to catch that person without having the light shined on them. To finish up the day we had a campfire, where we got S'mores and Hot Chocolate and sung songs. The night was a little bit cold, as there was no electricity in our cabins and they had to be heated by a fire, but I still slept through. In the morning, after breakfast, we had a little bit of free time again, and then it was already time to leave again. Overall I think it was a really fun experience.
Photo and blog post submitted by Kathrin, a German student currently attending Fernie Secondary School.