Student Blog
Back to all posts
Posted on:
My Great Canadian Experience: Hunting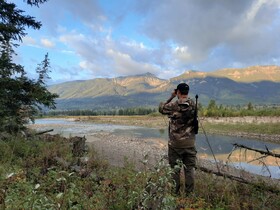 Hunting - more than just shooting animals
by Monke from Germany
Hi! I am Monke, a seventeen-year-old German girl who gets the chance to experience her year abroad in Sparwood. My time in Canada started three weeks ago, full of adventures and new impressions. It happened much and my host family gave me the opportunity to see a lot of the country, does not matter whether city, animals or nature. Perfect, for my wish to become a ranger after finishing school. 
For this blogpost, I want to use a very special adventure, I discovered alone with my host dad on  September 17th, 2022 (by the way, two days after my birthday). My host dad and I had to get up at 6 o'clock in the morning, to be able to start our trip with a half our drive before sunrise at 6:30.  After arrival at our destination, we parked the truck on the side of the road. After getting all his hunting stuff out of his truck, we started our hike through the bush following a little path over railways and to our first stop, a cliff.  We looked down the cliff, in front of us the Elk River and a field. 
On the field, my host dad discovered a herd of elks. Now, we had to walk faster, down the cliff and along the river to not miss the herd. We stopped in the forest, behind a tree to watch the elks slowly moving in our direction. In a split second, they all were gone. Later it turned out that another hunter had scared them off. 
We had no other choice to move on and try to find elks on our side of the river. We used elk poop and bones to find paths through the bush. My host dad used a plastic thing with which he could imitate elk sounds. He did a good job, it sounds literally like an elk, but no real elk answered his call. 
Suddenly, a noise, branches break and leaves rustle. It sounds like a big animal; it must be one! After waiting for up to 15 minutes under total suspense and excitement, we have decided that the noise is not a big animal, but cheeky squirrels which have thrown fir cones from the trees to the ground. We have gone on and after hiking through the bush for another hour, we were on our way to the road we have parked our truck on for 3 hours. 
Then, I saw something brown about 100 meters away from us lying behind a tree on the ground. My host dad gave me his binoculars, so I can watch what it was exactly (to be honest, I saw nothing). So, I gave them back to him and he looked at the animal for me. "It is a dead elk!", his words made my heart beat instantly. Finally, after a couple hours we found something.  
We walked fast to the dead elk and then we had to discover, disappointed, that the animal had been lying there for several days and the process of decomposition had begun (this point, you could smell it too). That means that we could not take him home but otherwise it was a beautiful animal and impressive to have the chance to admire and pet this big, wild elk. After getting to know that the elk was shot by another hunter in the stomach and had the chance to run away, we followed our path back to the truck. 
With nothing shot but with a bag full of new experience, we went home! Hunting in Canada is different to the way you would do it in Germany, but in the difference lies the excitement and the fun! I am so glad to get the chance to discover this adventure! 
Photo and blog post submitted by Monke from Germany, a grade 12 student at Sparwood Secondary School.