Student Blog
Back to all posts
Posted on:
My first time trying Nordic Skiing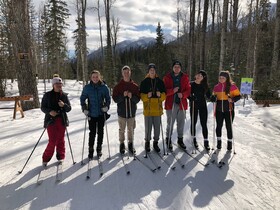 The first time I tried Nordic Skiing was when we did it for our monthly program activity. We got picked up from school by our Homestay Coordinator after Lunch Break and went to rent gear at a ski shop in town. Then we drove to the Nordic Center to get lessons.
The first challenge for some of us was clicking into our Nordic skis, but after trying a while and clearing the snow off our boots everyone figured it out. Then our teacher got us to fall to make sure all of us would be able to get on our feet again. I think getting up on Nordic skis is a lot trickier than on downhill skis, because they are so tiny, they have flimsy bindings but no edges, and they are so much narrower. After that we had to try skating on one ski and it turned out that staying balanced wasn't as easy as I thought it would be, but the hardest part for me was when we started to use our poles, because it somehow really confused me and I struggled to move my arms and legs at the same time.
As soon as our instructor thought we all figured it out we went for a "real" lap in the Nordic Center. The first big problem that awaited us right away was going down a big hill. It's definitely harder than on downhill skis, but I thought it was really funny. Going uphill was also really weird at first, because I kept on sliding back down the hill, but when I started walking like a penguin it finally worked. When we finished our lap I was pretty exhausted but it was definitely worth it. I think I should have tried Nordic skiing earlier, it was a lot of fun, and I will definitely go again, next time I might even try to skate.
Photo and blog post submitted by Kathrin from Germany.