Student Blog
Back to all posts
Posted on:
My Great Canadian Experience: Canoeing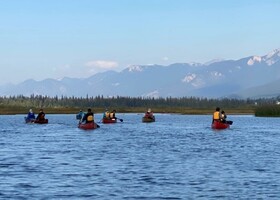 Canoeing - A thing you have to do in Canada
by Geske from Germany
Hey my name is Geske and I am from Germany. I am spending 5 months in Kimberley. Today I want to write about my first school trip in Canada. 
Last week I went on a 3 Days Canoe Trip with my Outdoor Education Course. It started on Wednesday morning with a ride to Columbia Lake. As we arrived at the lake we prepared our canoes. That was a lot of work to do since we all had a big backpack, our tents and the food for the next three days to store.
Before we actually started paddling we did a little warm up with a funny game. Each of us had a paddle in their hand and we had to walk in a circle without dropping the paddle. Then we finally started paddling. At first we practiced the different strokes we learned on our Canoe Course, two weeks earlier at Ha Ha Lake. It was a perfect summer day even though it was already fall. After arriving on our first destination and a short swim in the lake we decided to paddle farther so we only have to set up our tent once. We kept paddling another 3 hours. With the last warm sun rays of the day we arrived at our new home for the next two days. After setting up our tents we enjoyed the sunset while eating pasta. The night sky was so beautiful and we even saw Jupiter. Then we went to our tents and felt asleep real quick after such an exciting day.
The next morning wasn't as nice as the other day. It was rainy and cold. After the breakfast we had to practice a loaded canoe over canoe rescue. That means we had to tip our canoe and go into the water which cost us a lot of willpower. The water was very cold and we had only worn a bathing suit. Afterwards I was very proud that we all did this and we warmed ourselves up with some hot chocolate. 
In the afternoon we split the groups. Half of us went on a hike to see Indigenous paintings and the other group visited the Armstrong Bay by canoe. On the way back we changed groups. In the evening we made Curry for dinner. The highlight of the day was definitely the campfire we made after. We ate marshmallow and cookies and listened to scary ghost stories. The second night in the tents was a bit scary because there were some animals around in the middle of the night and after the spooky stories we were a bit scared.
On the last morning we had to pick up our tents. We enjoyed our breakfast burritos and were excited for the last day. We paddled till the end of the lake where we had lunch at a little beach. After that we paddled on the Columbia River it was different at the running water and more fun. We were all happy when we arrived at our last spot and packed up the canoes. In the bus we got our phones back we had to give away. It was nice to live without them for a few days.
The trip was amazing and a big adventure. Outdoor Education is a perfect class for Exchange Students. You can experience the nature and on top of that met lots of new friends.
Photo and blog post submitted by Geske from Germany. Geske is a grade 11 student at Selkirk Secondary School in Kimberley.