Student Blog
Back to all posts
Posted on:
My Great Canadian Experience: Corn Maze in Lethbridge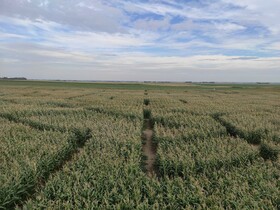 by Natalia from Spain
Last weekend, my host family, host sister Monke, and I went to the corn maze in Lethbridge. It was something that we had talked about, and we didn't have to go to school that Friday, so we decided that it was the perfect moment to do it. I was very excited to go, although I could've never known that it was going to be so much fun.
We got up early that day, because we had to do a 2h-30min-drive to go to Lethbridge. We went shopping (which was actually pretty good), and on the afternoon we finally went to the corn maze. When we arrived, there was a small cabin surrounded by pumpkins of different sizes, and I thought: 
This place is so cool, it looks so sweet!
Our host mom took a photo of me, Monke, and our host sister sitting in front of the cabin. You can't imagine the big smile I had.
After that, we finally entered the area where everything was: the animals, the washrooms, the corn maze. Our first stop were the goats: cute, little goats that you could feed and pet. And, obviously, we did it. It was nice seeing their faces when they realised that people had food for them. There were also cows, llamas, a pony, and a giant pig. I had never seen a giant pig, but believe me, it was huge.
Once we had seen the animals, my little host sister wanted to go to the playground, so we went with her. It was for kids, but that doesn't mean we didn't have fun, because we did. There were also some giant wheels that you could go into and run, just like a hamster. We got super excited when we saw them, so we couldn't help ourselves and we raced. I don't know who won, though.
We had a great time with the animals and everything, but that wasn't what we had gone there for. It was time to finally enter the corn maze. There were sheets with questions to help you find the correct way to go, so we took one and we started the adventure. At first, I thought that we would go individually and race to see who completed the maze first, but we did it all together, and it was more fun than I had imagined.
We had to choose between three different answers for each question and depending on our answer we had to take one path or another. We got lost a couple of times, but that didn't matter, because we were happy to do that together. However, we managed to find our way to the end of the corn maze.
It was a great day, not only because I had a lot of fun, but because I got to spend it with my host family. They're really nice, and that day allowed us to connect better as a family. We spent a lot of time together and we had a lot of fun, so that's why I decided to write about it. That day, I felt like a real part of the family, and I think that's one of the most wonderful things that I'm going to experience in my stay in Canada. These people opened their home for me, and I'm slowly starting to feel like I'm home here.
Photo and blog post submitted by Natalia from Spain, who is in Grade 11 at Sparwood Secondary School.