Student Blog
Back to all posts
Posted on:
My Great Canadian Experience: Rugby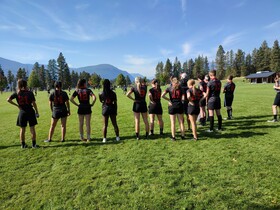 by Feli from Germany
My first rugby tournament was a very great experience for me and I think it was one of my best days yet in Canada.
It all started when I went to my first rugby practice after school at the beginning of the school year. There were a lot of students who had never played rugby before, mainly international students just like me. After the first practice a lot of these people decided that rugby isn't their thing, but me and some other new people stayed. In the current team are boys and girls from grade 10 to 12. It is a great opportunity to meet new people who are not international students. School sport, or sport in general, is perfect to meet people and maybe do some trips with them.
In the first five training sessions we learned the basics and how not to get hurt. We learned some game moves and of course a little bit of the rules. We have tackled and we have learned how to make a scrum.
We are playing Rugby sevens. It is a variant of rugby union in which teams are made up of seven players playing seven-minute halves, instead of the usual 15 players playing 40-minute halves.
On Wednesday, September 28, 2022, we had our first or rather our first two games. We still went to our first block of classes that Wednesday. Then our team was picked up by a school bus and brought to Marysville. There we got our jerseys and then we changed our clothes. We soon started to warm up. Then the first game started. The boys from our team played and won. Later we girls played our first game. Unfortunately we lost. But we learned from our mistakes and won the second game. We now had better defense and much better communication. Then the boys played their second game. We all watched and cheered. The boys won their second game.
After a long and exhausting day we were all happy. Despite the burning sun, which resulted in a slight sunburn, and the injuries, we learned a lot and we grew together as a team. I am really looking forward to our next game next Wednesday.
Photo and blog post submitted by Felicitas from Germany, who is in Grade 10 at Mount Baker Secondary School.