Student Blog
Back to all posts
Posted on:
The coolest thing I've done in Canada by Clara V.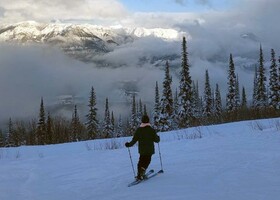 I suppose that the activity that I have found the coolest here in Canada has been skiing. I started skiing here a few weeks ago and am really enjoying it. Skiing in Canada is truly a gift. The views and nature are incredible. Here people ski a lot and they enjoy it a lot.
I find a big difference between skiing here and skiing in my country. Here people ski more "wildly", and I love it! Everyone skis more boldly and fearlessly. Here people literally ski in nature. There are paths between the trees, and you can ski inside the forest. I like it, because here people do not limit themselves to skiing only on the ski slope, but they like to try new and wilder things. Apart from the fact that the views are spectacular!
I am in the Rocky Mountains, and being lucky enough to be able to see all the beautiful and huge mountains and feel in the middle of nature is a gift. I am in a small town, but I am lucky, because I have the ski resort only about twenty minutes away (so I can go quickly at any time). I don't know if my level and technique of skiing is really going to improve something practicing here, but when I return, I know perfectly well that I will no longer be afraid of anything. Because here I am skiing very difficult slopes, and going through powder snow many times ... Here I have to adapt to nature while skiing, and I love that. Here I am seeing one of the most beautiful views I have ever seen. The truth is that it is fortunate to be able to see the mountains in this way, and I am very grateful. In the ski resort, there is a ski slope that reaches the highest mountain, and once I am there, I truly feel like the queen of the world. I can see all the snowy mountains around me and it is very beautiful. I'm really enjoying Canadian skiing!
Photo and blog post submitted by Clara from Spain,  a grade 10 student at Golden Secondary School.