Student Blog
Back to all posts
Posted on:
The first time I tried curling by Kathrin K.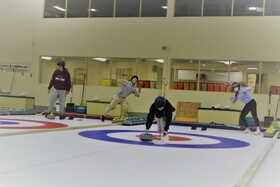 As we prepare for our November program activity, we'd like to share this great post from Kathrin from Germany, who was a student at Fernie Secondary School in 2021-22. 
On Monday, November 16, it was time for our monthly activity with the RMISP, and we went curling. When I heard about that, I wasn't very excited to participate, because watching curling in TV always almost bores me to death.
Our Homestay coordinator picked us up right after school, and we drove to the curling center together. There we met some other international students as well as the guy who was going to teach us the basic techniques of curling.
We started with learning how to sweep the ice correctly, and I think we all looked very stupid doing that. Then he taught us how to slip on the ice and when showing us, even he fell, so it was a lot less embarrassing for us to try. Some of us landed on their stomachs, which caused everyone to burst into laughter immediately. After this we learned how to twist the stone, and when we did a little exercise, to see if we can all get it right, it worked pretty well for everyone, but later it didn't anymore. Next, we tried sliding in combination with letting the stone go. Once more, most of us landed on their stomachs, and the stones hit the boards on the end of the ice, because we were shooting with way too much force. That was also noticeable when we started playing. We were really terrible. All the stones either didn't even make it near the home, or slid too far and were cancelled out. At the end, there was only one stone that touched one of the circles. I think it was probably the worst game of curling our coach has ever seen. 
I still won't become a fan of watching curling and neither am I going to join a curling tam, but I now understand that it is way harder than it looks like on TV, and it was a lot of fun to try this Canadian sport.