News
Back to all posts
Posted on:
Culture in the classroom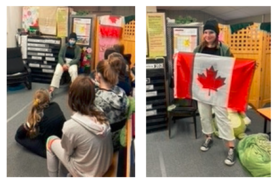 Charlotte, a grade eleven student from France, is attending Mount Baker Secondary School in Cranbrook this fall. Shortly before her return to France at the end of November, Charlotte was invited to be a guest speaker at Kootenay Christian Academy, one of the local schools in the city.
Charlotte visited the grade seven to nine French classes to share some of her French culture and to answer the Canadian students' questions about life in France.
"I am very interested in creating relevant opportunities for my students to interact with French visitors."   

-Mme. Reimer, French Teacher
The benefits of international education are truly a two-way street, with Canadian and international students alike learning and growing from their interactions with each other. Here in the Rocky Mountain school district, we are grateful for all that our international students bring to our communities.