Homestay
Living with a Canadian family provides international students with a caring and supportive family environment. It gives students a chance to learn about Canadian culture, customs, and lifestyle.

RMISP handles its own homestay program. Host families are carefully selected and must undergo Criminal Record Checks, an interview and a home inspection before being accepted into RMISP. Host families come in all shapes and sizes and are reflective of Canada's diverse population. 
Our host families are an integral part of RMISP. Their active and enthusiastic participation in our program enhances each student's cultural experience and contributes to the maximization of their time in Canada.

We have seven Homestay Coordinators who look after an average of 30 students each. They make sure each student is placed with a family who is the best possible match and support students as well as host families with their experience. Homestay Coordinators host weekly student meetings and are an incredible resource for students throughout their stay in Canada.
Interested in Hosting a Student?
RMISP is seeking enthusiastic, outgoing families who are interested in welcoming international students into their homes. Hosting a student is a rewarding cultural and personal experience. Some of our host families have been participating in our program for many years!
We have a wide variety of hosting situations available throughout the year. Time periods range from a month to a year or more for students participating in a graduation-track program (three years). Student ages range from 13 - 19 years.
To be eligible, you must meet the following minimum criteria:
You have an extra bedroom in your home
Everyone 18 and older in your home submits a Criminal Records Check
English is the primary language spoken in your home
You have the time and energy necessary to welcome a new member of the family into your lives
Contact your local Homestay Coordinator
If you are interested in learning more about this exciting opportunity, please contact the Homestay Coordinator in your community. To find your local coordinator, please visit our Staff Directory.
How to Apply
We accept host family applications on an ongoing basis and we start the placement process 4-5 months before each new student intake (September, February, April), so don't wait to apply. 
Before completing our online application, please prepare the following materials: 
Host Family Letter: Write a letter to your prospective student(s). Tell them about your family and what life is like in your home and in your community. Describe your expectations and goals for your student(s) and explain your reasons for wanting to host an international student. This document needs to be in PDF or JPG and less than 3MB.
A minimum of 3 photos: 1) a photo of the front of your home: 2) a photo of your family; 3) a photo of the student's bedroom. Additional photos are encouraged if they add important information regarding what your family likes to do and where you live. Photos need to be in JPG and less than 3MB.
Please review the Online Homestay Application Instructions before starting your application.
Apply Now!
Ready to apply? Click the button below to get started.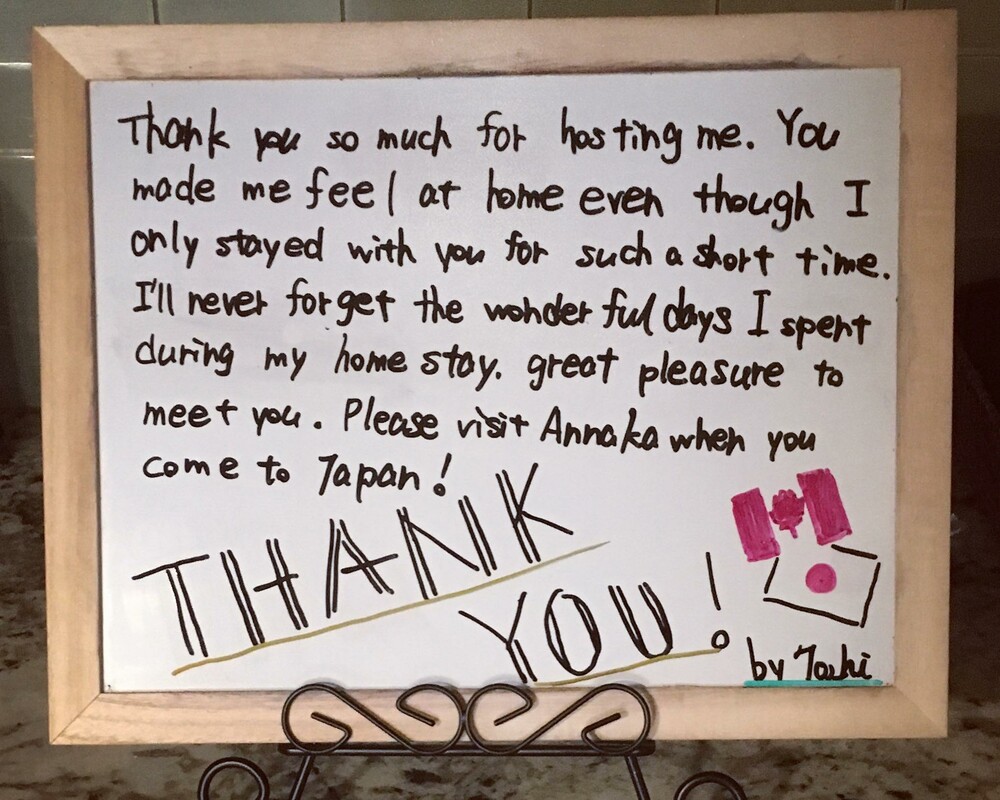 Homestay Referral Program
Do you know someone who would make a great host parent? We are always looking for new individuals or families to join our homestay community! Complete our referral form to be eligible for a $500 referral reward.