News
Back to all posts
Posted on:
German exchange students visit Selkirk and David Thompson Secondary Schools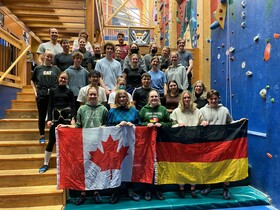 A group of 12 students and two teachers from Julius-Echter Gymnasium in Elsenfeld, Germany spent two weeks in Canada in February as part of a reciprocal exchange program, which was established in 2016 and resumed this year after a two-year break due to the COVID-19 pandemic.
The German students were paired up with eight Canadian students at Selkirk Secondary School in Kimberley and four Canadian students at David Thompson Secondary School in Invermere. They attended classes with their buddies and participated in recreational activities like curling, cross-country skiing, downhill skiing, and indoor rock climbing. The German students also visited Fort Steele
Heritage Town and the Ktunaxa Interpretive Centre at the former St. Eugene Mission residential school in Cranbrook.
The Canadian students will visit their buddies in Bavaria for two weeks during the school
district's spring break in March.