News
Back to all posts
Posted on:
Exchange participants spend spring break in Germany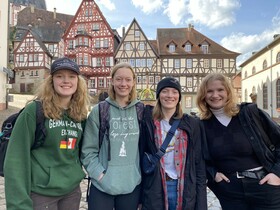 Canadian students from David Thompson and Selkirk Secondary Schools completed a reciprocal exchange program with partners from Julius-Echter-Gymnasium in Elsenfeld, Germany in March. Eleven students in grades 10 to 12, lived with a German host family, attended classes, and visited cultural and historical sites in the area.
Trip highlights included visits to the Residence Palace in Würzburg (a UNESCO World Heritage Site), the Nazi Party Rally Grounds in Nuremberg, a 12th century castle in Miltenberg, a tour of the university city of Heidelberg, and a jazz concert at the Stadttheater Aschaffenburg. Students also enjoyed a German cooking class at the school, in which they prepared Rotkraut-Gemüse and Spätzle for their host families and trip chaperones.  
Reflecting on what they learned from the exchange, many students noted that they got better at making new connections with people, enjoyed being independent, grew more confident, learned to navigate public transportation, and learned to adapt and be flexible. 
Students overwhelmingly recommend the exchange program to others: 
"It is a great experience because you get to meet really great people who you will be connected to for a very long time. It is amazing to see how different cultures work and it is very cool to see an amazing part of Europe." 
"I would highly recommend the exchange to others. It's really changed my world view and values." 
"I learned that I can actually handle myself in scary situations, and I can have the self-control and self-awareness to keep myself safe and make good decisions alone." 
"Learning to be more spontaneous and getting comfortable with sharing and receiving help is definitely something I will use in the future."
"I want to visit Germany again (among other places) after I graduate, and everything I learned about travel and connecting with people will help when I travel by myself." 
"I would tell a potential student that it is an incredible experience, and they need to savour it.  Worry less, take lots of pictures, get to know everyone and make friends."

"It is really fun and a valuable experience to look at a different country and learn about it. It was also cool to stay with a host family and do activities with everyone." 
"I learned that I am more self sufficient and more ready to be alone than I expected. After I graduate, I would really like to explore and see more countries in our world." 
"It's a once in a lifetime opportunity and the experience is really exciting. It's really eye opening to see another culture." 
Funding for this trip was provided by Rocky Mountain International Student Program and a B.C. International Education Mobility Program grant.
German Exchange 2023