News
Back to all posts
Posted on:
German student back in Vanderhoof to catch up with friends and host family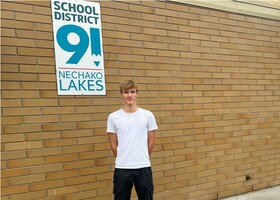 Finn Rohwer, a grade 12 student from Germany, is back in Vanderhoof for a two-week holiday to visit his friends and host family, after spending last school year in the community through the Rocky Mountain International Student Program (RMISP).
Finn loved his time in Vanderhoof, so we caught up with him on Oct. 25 at Nechako Valley Secondary School (NVSS) to talk about what he loved about his stay and his study abroad experience. 
"I thought it would be a good idea to come back as I wanted to see all my friends, maybe even play football. I am allowed to practice with the team but can't officially play for the school as I don't study here anymore. My main reason to come back was to see everybody again."
Finn initially came to Canada through RMISP at the end of August 2021 and stayed until the end of June 2022.
"I have a host mom and two brothers, and they had two cats then, but have three now. They took me on trips, hikes and fishing. It was really nice. The first day I got here, my oldest host brother took me on a small hike with his girlfriend. After that we went fishing. I really enjoyed that!"
When Finn first applied to study abroad in Canada, he wanted to go to Nova Scotia. But due to COVID-19 restrictions, international students weren't allowed into the province. He chose RMISP after and is really glad he did. 
"I didn't choose this school but I ended up here, and I am really glad I did, because I really like it here."
While at NVSS, Finn joined multiple sports teams including basketball, football and volleyball. The basketball team made it to the provincials during Finn's time at the school, and that was a great experience for him. 
One advice he would like to give international students during their study abroad trip is to "do as much as possible". 
"Just don't spend time at home alone. Try to join sports teams. For instance, I have never played basketball before, but everybody made a good effort to get me involved and to teach me how to play basketball. Yeah, so try and do as much as possible. Make the best of your time."
He said people are really friendly in Vanderhoof and he made friends very quickly within the school. "At school, it's not like you have to make a really big effort to make friends. They want to get to know you too, so they also come talk to you. So it's not just on you to make friends."
Meanwhile, Finn's future plans are to finish his grade 12 and 13 where he is focusing on English, History and Geography. His other subjects are German, Chemistry, Biology, Math, PE and Psychology. 
Even though he is leaving on Oct. 29, he is looking forward to future trips back to Vanderhoof!