News
Back to all posts
Posted on:
Japanese grad-track student excelling at Selkirk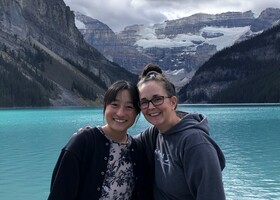 Fifteen-year-old Ageha F. joined the Rocky Mountain International Student Program in September 2022, as a grade nine grad-track student at Selkirk Secondary School.  Ageha has made the most of her first eight months in Canada by working hard in the classroom and actively engaging in sports, arts and community activities outside of school.
Ageha is currently completing a youth leadership certification through Kimberley Youth Action Network (KYAN) where she also volunteers and participates in activities like the KYAN Art Hub. She has volunteered in the community at Kimberley's annual Oktoberfest and at Kimberley Dynamiters hockey games. As a member of the Selkirk Secondary School ski/snowboard team, the young snowboarder competed at the high school zones races at Kicking Horse Mountain Resort in Golden. Encouraged by her host father who is the owner/operator of a local music store, Ageha has been playing guitar and teaching herself piano in her free time. 
With plans to be an entrepreneur when she is older, Ageha came to Kimberley with a vision that this experience would improve her future. She has enjoyed being able to do things she has never experienced before and having new encounters and challenges.  Her favorite Selkirk classes are Exploration and P.E. and she says, "the teachers are so kind and helpful". 
Kimberley Homestay Coordinator, Paula Mihalcheon, had lots of praise for Ageha:
"Ageha is doing exceptionally well, especially considering her English level when she arrived. Her English has come along so fast and she rocked her report card. The host family she lives with adore her and the plan is to have her live with them all through her high school years."