News
Back to all posts
Posted on:
Vanderhoof family flying to Germany to visit their former international students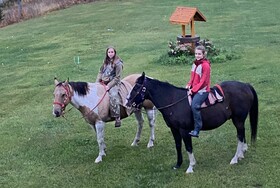 Vanderhoof homestay coordinator Camille Albertson is going to Germany to visit two students who stayed with the Albertsons in Vanderhoof last school year through the Rocky Mountain International Student Program (RMISP).
Nina Leipert stayed with the Albertsons for the first semester of the 2021-2022 school year and Annalotta Hipp was with the host family in the second semester. 
We reached out to Camille to ask her about her exciting trip to Germany and her experience as a host family in the Nechako Lakes area.
Q: Tell us about why you like being a host family to international students?
A: My husband, Daniel and I, and our family first started hosting students in 2018 when Nechako Valley Secondary School did an exchange program with a school in Japan. Our first experience was hosting two girls for 10 days. The next school year, 2019-2020, we hosted a Japanese boy for three months from October to December, again through NVSS. Because of our previous experience and interest in hosting students, we were approached by Mini, the previous homestay coordinator in the Nechako Lakes area, about hosting students through RMISP. This was the first year that RMISP partnered with SD91 for the 2021-2022 school year. We agreed and hosted two German girls who both stayed for a semester each. This year we are hosting again, this time a boy from Germany who will stay with us for the full school year!
Q: What do you love about the homestay experience?
A:  My family has really loved this hosting experience, and learning about different cultures through the students we have hosted. I think the most important part of hosting students is helping them feel included in all of our family activities. Some of the things we have done together include cooking, camping and other trips, playing games, and working together. We also love asking our students to bring recipes from home that we could cook together. Our students have learned a different way of life by helping on our farm, feeding the animals, riding the horses, and caring for a garden which includes planting, harvesting, and preserving. Bonding happens naturally through participating in our normal life activities. One downside is that every time it comes time to send students home, there are many tears all around, and expressed hopes to visit each other in every case so far! 
Q: You are going to Germany to visit Nina and Annalotta! That must be exciting, how did that come about and how long are you gone for?
A: With Nina, I invited her to come back for a summer girls camp with us which she decided to do! After she returned home from that trip she let me know that she had a Fall break from school, and invited us to come visit. When we decided to accept the invitation, I also contacted Annalotta, who has arranged an itinerary for us to spend a weekend in her area also.
I am going to be in Germany for 23 days. These girls were so wonderful, and really hold a special place in our family. I am really looking forward to meeting their families too! 
Of course, I am also excited to visit the historical sites, and try different foods.
Anyone interested in hosting an international student with Rocky Mountain International Student Program should contact their local homestay coordinator for more information.