Student Blog
Back to all posts
Posted on:
My Great Canadian Experience: Art Show at MBSS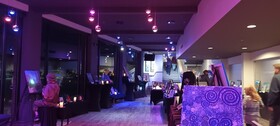 by Laura from Spain
 On Wednesday, November 30, in the Key Theatre of Cranbrook, an art exposition took place. Various students from different art or photography classes presented their work.  
The week before in my art class we started preparing everything to the show. The theme was the light, and we made a special work, a lightbulb, being able to be creative and create something unique. For each art piece we had to have a label, where the work was presented, with name, method, and author. Everything should be done in time and perfect. 
With my teacher and other students, we went down in the basement of the school. It was fun due to the atmosphere of the place and the weird things that were there. All the stuff that was placed in the gallery was planned and everything was amazing. The day of the show a lot of people was there. They were impressed with our work. My teacher was happy, and it was a completely success.  
For me, it was one of the best experiences in my life, and my first art exposition.
My art class is one of my favourite things in Canada, and my drawings are an important part of my day. Before coming here people told me that I was going to have great experiences and now I can see that this is one of it and that this year is going to be the best of my life. 
Photo and blog post submitted by Laura from Spain, a grade 11 student at Mount Baker Secondary School.