Student Blog
Back to all posts
Posted on:
My Great Canadian Experience: Golfing in Cranbrook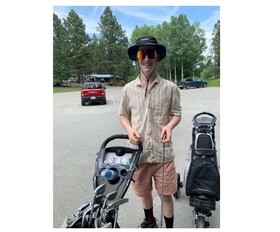 by Benoit from France
Hello my name is Benoit and I come from France. I arrived for 3 months here in Canada in the city of Cranbrook which is a small city surrounded by mountains where I could ski. Now that the snow is gone I'm going to do a lot of biking finally - except my bike just broke ! This city has a very relaxing setting. The city is superb! I'm almost two thirds of the way through my experience unfortunately, it's going by too fast and during this long 4 day weekend I went golfing at the Mission Hills course which was great. We also went to the Cranbrook course and this one is even bigger and more beautiful. It's been 3 years since I last played golf and it was great. I'd done 3 years of golf before so I'm not too bad and this course if you want to have fun is great because it's a short but great course. The setting was beautiful because we were golfing surrounded by mountains. I would love to go back before the end of my stay as it was great. As you can see from the photo it was great and the weather was beautiful as it often is here. I think, it is very warm, which is not unpleasant. The sun is always shining and it almost never rains which is not bad when you play golf. I am very happy to have chosen this destination, I think it is one of the best. I advise you to choose it !
Photo and blog post submitted by Benoit, a grade 11 student at Mount Baker Secondary School in Cranbrook.