Student Blog
Back to all posts
Posted on:
My Great Canadian Experience: Host Family Holiday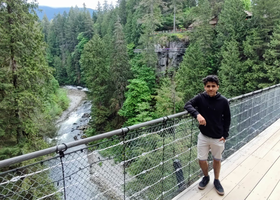 by Alejandro from Spain
On the May long weekend I spent five days in Vancouver with my host family. It was a long road trip in a very full car but with jokes, stories, music and a quick stop at a dairy farm the hours flew by. When we finally arrived at Vancouver we visited some family and a lot of places like the zoo, the Pacific Ocean and downtown.
The day before going back to Cranbrook, I went to Capilano suspension bridge. I couldn't understand how it didn't fall off with all the people that were crossing. At first I was very scared to cross the bridge because it was moving a lot and it was very high but with some motivation I did it. Once I did it I was able to enjoy the rest of the park that had a lot of bridges that went between the treetops and cliffs and see all the views of the river and the valley. 
Definitely the Capilano Park has become one of my favorite places on this planet because of all the bridges that go between the forest and the cliffs. I recommend this park to all the people who have an opportunity to go visit Vancouver. 
After the Capilano Park it was time to go back home. On the road trip back to Cranbrook we stopped at Osoyoos Lake and because of the nice weather I was able to swim in the cold water and after a few hours more we finally arrived home.
Photo and blog post submitted by Alejandro, a grade 10 student at Mount Baker Secondary School in Cranbrook.