Student Blog
Back to all posts
Posted on:
My Great Canadian Experience: International Dinner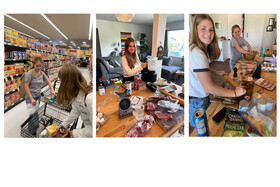 by Julia from Germany and Bernarda from Mexico
Last weekend, our friend group had a really cool plan—we decided to have an international dinner party! The idea was simple: each of us would cook a dish from our home country, and we would all get to try everything.
Lucy, our friend from Switzerland, made Spätzle with a Swiss cheese sauce. Julia from Germany made Schnitzel because her dad loves to cook and knows how to make the perfect Schnitzel. Her host family was very happy about her idea because they liked it too and had the right type of meat. Bernarda made a dessert called Carlota. It's made out of layers of vanilla cookies covered with a lemon sauce. She always makes it with her little sister back in Mexico during the summer.
Before heading to Julia's place to cook, we went to the store to grab all the ingredients. It was not easy to find all the things we needed. Especially Lucy's Swiss cheese was hard to get. Of course, we couldn't forget some snacks and drinks to have while cooking. Once we had everything we needed, we went to Julia's house.
We started cooking while listening to music and singing along. Everything worked out really well. Bernarda's dessert was done pretty quickly, and afterward, she was a great help with the other meals. But still, it was a little chaotic and messy at times. Lucy had to come up with some new methods to shape the Spätzle because the equipment she needed was not available here in Canada.
After around three hours of cooking, we were a little exhausted but excited to try everything. It was time to eat! We liked every dish because each one had its own unique flavor and style. Also, Julia's host family and their friends got to try everything, and they enjoyed it a lot. It was amazing to taste the different dishes and learn about each other's cultures through food.
Photos and blog post submitted by host sisters Julia and Bernarda, grade 10 students at Mount Baker Secondary School in Cranbrook.