Student Blog
Back to all posts
Posted on:
My Great Canadian Experience: Long weekend in Vancouver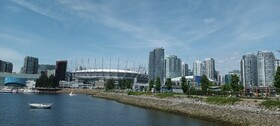 by Laura from Spain
Last week my friend invited me to travel with her and her family to Vancouver. Even though we had to spend around nine hours in the car, it didn't feel like it. After stopping by numerous places such as Creston and Osoyoos, we arrived.
The first day we walked through Burnaby, downtown, and Granville Island. There we tried amazing food and went to a huge number of interesting stores. To cross the river, there are aquabus ferries from which you can get good views of the river. The second day was focused on the Asian culture. We tried Chinese, Korean and Japanese food, visited my friend´s grandfather, who is Chinese, and went to Metrotown, a big mall where you can find a huge variety of stuff that you will not see a lot in other places.
Our initial plan of going to the beach had to be canceled because of such a not good weather, but we still got to see it and walk on it. The trip was not just city, we went hiking at the Lynn Canyon, where we walked across a suspension bridge. The weather was incredible that day and we could enjoy and take great pictures.
I met awesome people, we had a good time together, and I got to know a city that I´ve always wanted to visit. If I had to say my favorite part, it would be trying incredible food from other cultures and learning new things such as how to eat with chopsticks. It was one of the best experiences I had and I would not doubt to repeat it.
Photo and blog post submitted by Laura, a grade 11 student at Mount Baker Secondary School in Cranbrook, BC.