Student Blog
Back to all posts
Posted on:
My Great Canadian Experience: Northern Lights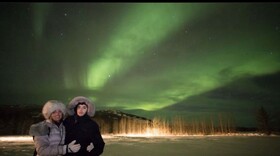 by Eugenio from Mexico
I went to Whitehorse, Yukon in December with my mother to see one of the most beautiful things in life, the northern lights. It was beautiful and it was amazing. It was something unbelievable, I could almost touch them with my hands and they were moving like if they were dancing! It was beautiful.
My mother and I spent lots of times together in Whitehorse. I can feel it like it was yesterday. I miss her and I miss my country, but Canada is a beautiful country and I love everything here. I have learned so much about this country and I will miss it.
Photo and blog post submitted by Eugenio, a grade 8 student at Laurie Middle School in Cranbrook.