Student Blog
Back to all posts
Posted on:
My Great Canadian Experience: School Band Trip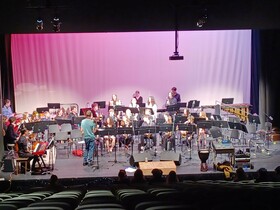 by Antonia from Germany
When I came to Canada I joined the Band program from my school. I like music and want to play an instrument in Canada too. I learned to play the flute.
Two months after I start learning it we had a trip with all the Bands from the school to Canmore. I just knew that we will have a concert there. So I was not sure if it is the right thing for me. I thought I was not that good playing the flute. But another International Student and I decided to go there.
We started the trip on Friday after we had Band practice at 8:40 am. It was very early and we drove six hours with a couple stops. In Canmore we stopped at the school, where the band festival was, to unload our instruments. After that our Band had clinics, which are some practice with just the same instruments together. It was very helpful and we had lots of fun. After that we went to the hotel which was more like many apartments. We put our stuff in our room and went by bus to the school again. There the jazz Band from our school had their concert and we all watched it. It was very good and I liked to listen to them. When they where finished we had some free time where we could go into downtown. Until we met at Boston Pizza for dinner. Even when we sat most time of the day on the bus it was a very nice day.
On Saturday we get up at 7:30 and had a good breakfast, which was made by the moms who came with us. We were on the bus by 9:30 to come to the school. Until lunch we had Free time. We went to Canmore to buy a hot drink or some souvenirs. Later we ate lunch together and watched a concert. Different persons performed there. It was a beautiful performance. After it we had some free time where we should change our clothes because we were the next who are performing. Our concert was very good too. But because we where a bit nervous it was not as good as in our practice. All in all we were glad about our performance. After the concert we had adjudication where we spoke about our performance. It was very helpful. After that we had free time where we searched something for dinner. It was a very good day and we had a lot of fun.
On Sunday was our last day on the trip. Just our junior Band had their concert today. They were very good too. I liked the trip very much. We had a lot of fun and on our free time I loved the cold weather, which we had in Canmore. At 5:30 we where home at our school and I was so happy to experienced the trip.
Photo and blog post submitted by Antonia, a grade 11 student at Selkirk Secondary School.