Student Blog
Back to all posts
Posted on:
My Great Canadian Experience: Spring Skiing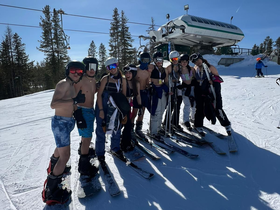 by Alejandra from Spain
I'm Alejandra and I am an exchange student from Spain. The other day we were all skiing in Kimberly and with the good weather we decided to ski in swim suits. We did it with some students from Kimberly as well. It was super funny. It was an amazing experience that we have never done before. It was an incredible way to finish the ski season all together. We had a lot of fun, it was an amazing day⛷️☀️ We recommend to all the people that are going to come the next year to do something's like this. It is this kind of experience that you are never going to forget - having a very good time, and doing that with great friends.
Photo and blog post submitted by Alejandra, a grade 11 student at Mount Baker Secondary School in Cranbrook.