Student Blog
Back to all posts
Posted on:
My Great Canadian Experience: Bike Ride to Pano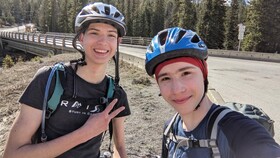 by Joost from Germany
Over the winter, Paul (Spanish International Student) and I enjoyed skiing at Panorama Mountain Resort. One day in May, we thought we would ride our bikes up and see what it is like before it is summer. It was a full day trip and the views were spectacular!
The trip took 7 hours and 55 minutes. It was 71.5 kms. Some parts were very steep and there were lots of curves and bends.
We were told there is rafting and kayaking on the creek. During the summer it is better for people just learning as the water is not as strong as when it is melting on Jumbo and rushing down. The International Students here in September went rafting when school started close to Invermere.
The snow takes a while to melt at the higher elevation but in town the snow has been gone for a long time.  There have been bear sightings along the road to Panorama and a few at the Resort too. A mother moose and two calves that walked past the condos a few weeks ago.
Some parts the road is almost beside the creek. Other times the road is much higher than the creek. 
The creek looks so inviting but it is made from glacial run off so very cold.
There are not many straight or even sections on this road. It is a very interesting ride. In the winter it takes the shuttle 22 minutes to drive up from town. 
It is a beautiful ride up Toby Creek Road. There is a beautiful view of Mount Nelson near the end of the ride. 
It was a great ride - relaxing and challenging too.  In the afternoon our host parents laughed as we still had energy so went for a good hike as well! There are so many great hikes and bike trails around Invermere.  It is a great place to live and have great Canadian adventures!
Photos and blog post submitted by Joost, a grade 10 student at David Thompson Secondary School in Invermere, BC.