News
Back to all posts
Posted on:
Congratulations, Class of 2022 Graduates!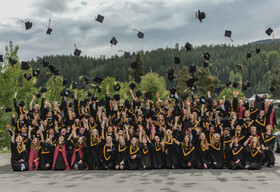 We would like to wish our most sincere congratulations to all Class of 2022 graduates and especially to Selkirk Secondary School's international student graduates, Kerry Gu, Christine Gu and Kristel Zeevat. 
Christine and Kerry, twin sisters from China, first joined RMISP as experience students for one semester in 2017, and then returned in February 2021 on a path to graduation. Both Kerry and Christine were active in the community during their time in Kimberley - contributing their time and energy to the Selkirk Grad Committee and volunteering with community organizations such as the Hospital Auxiliary Thrift Store. Kerry, an accomplished piano player, performed with the school band.  Christine and Kerry were co-recipients of the International Student of the Year award, presented at the Selkirk Secondary School awards ceremony on June 15th. Christine will be studying Biology at University of British Columbia with plans to become a veterinarian.  Kerry is headed across the country to study Computer Science at University of Toronto.
Kristel, from the Netherlands, worked extremely hard to complete all the requirements of the Dogwood Diploma in just one year at Selkirk Secondary, while also volunteering at the Youth Centre and other community organizations. She also played on the school volleyball team and earned enough Rocky Reward points in school, work habits, community and volunteer categories to qualify for our year-end trip to Vancouver. Kristel will be returning home to the Netherlands to attend nursing school in Amsterdam. She plans to become an Operating Room nurse. 
We couldn't be more proud of all three students! Well done, Kristel, Christine and Kerry!
Selkirk Secondary School 2022 Graduates
Special thanks to Nicole Leclair Photography and Paula Mihalcheon for sharing these photos with us!