Student Blog
Back to all posts
Posted on:
My Great Canadian Experience: Hot Springs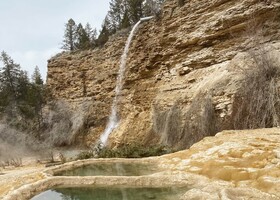 by Karola from Mexico 
My Great Canadian Experience was going to Fairmont Hot Springs with my Cranbrook friends and Sofia's family. It was really nice and a lovely experience. I had fun with my friends, and I had the opportunity to meet my Spanish friend's family. I had a really good time with them, and we even got to eat Spanish food!  I liked it a lot. It was a bit of a long drive so we stopped for ice cream and we were singing in the car. It was really funny because Sofia's family are not used to the cold and they were wearing many layers and we were in shorts. I thought it was really funny how they thought we were crazy!
Photo and blog post submitted by Karola, a grade 9 student at Laurie Middle School in Cranbrook.