Student Blog
Back to all posts
Posted on:
My Great Canadian Experience: Outdoor Ed Class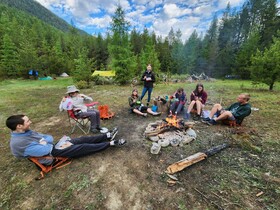 by Felicitas from Germany
In outdoor education, we always do great things outdoors. The other day we did our climbing camp. Before camp, we trained at the climbing gym and did our belay tests so we could belay each other. We also had a day of outdoor climbing before the field trip.
For camp, we took the school bus to Perry Creek climbing area. There we did outdoor climbing. We always had to wear helmets because of the risk of falling rocks. We did different climbs. We always belayed each other. We also tried rappelling for the first time. So we lowered ourselves down from above. That was really fun.
After climbing, we walked to our camp. It started to rain, but luckily it stopped quickly. We set up our tents and made a fire. Then we made food. My group had hot dogs and bannock. For dessert we had bananas with chocolate chips. That was really good. The other groups had really good food too. Then we sat around the fire for a while and played werewolf.
The next day we got up early and had breakfast. We packed everything up and then went climbing. This time we climbed in a different place. It was very high when you climbed to the top, but you had a great view. This time it was harder to climb, but our group did very well. Outdoor climbing was a lot of fun. I think outdoor climbing is more fun than indoor climbing. But you have to find your own holds, which makes it a little harder. Then we were picked up by the school bus and brought back to school. It were great two days.
Photo and blog post submitted by Felicitas from Germany. Felicitas is a grade 10 student at Mount Baker Secondary School in Cranbrook.