Student Blog
Back to all posts
Posted on:
My Great Canadian Experience: Blue Lake Camp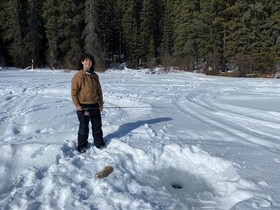 My trip to Blue Lake by Samantha from Mexico
In March we went to the Blue Lake Camp and first when we arrived, they assigned our cabins and then we had lunch. Afterwards we had to pick some activities and I picked how to build a fire with only one match and learn some survival skills as well as recognition of plants and animals. Even though my team won lighting the fire with only one match we didn't make the biggest fire. Then we went ice fishing, and I had a lot of fun by hanging out with friends and trying to catch a fish that never came, afterwards we had dinner that was really yummy! We got some time off to hang out with friends and then they called us to eat s'mores and drink hot chocolate by the fire while the staff are telling us some spooky stories. Later I played some table games with some friends which was fun and then we went to sleep to our cabins.
The next day I woke up, had breakfast and because my birthday was coming soon, they sang happy birthday and even gave me a muffin! Then I went ice fishing again because I really liked it. Then we packed lunch for the way home and had a great time playing volleyball and some table games with friends, then we cleaned our cabin and went home.
This trip was honestly my favorite because of all the new things I learned and how much fun I had with friends. My favorite part was the story telling by the fire and the ice fishing.
Photo and blog post submitted by Samantha, a grade 8 student at Laurie Middle School.