Student Blog
Back to all posts
Posted on:
My Great Canadian Experience: Spring Break Trip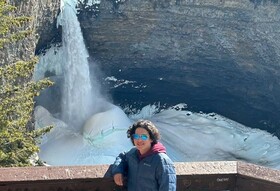 by Andrés from Mexico
My great Canadian experience was this spring break when my host family decided that we were going to visit their parents in Clearwater, a tiny town close to Kamloops. We went to two big waterfalls with snow and ice.  This was definitely a very different experience from what I have seen in Mexico because the snow and ice made it very unique, you could see the water go like through a tunnel of ice and come out from the bottom.
This trip helped me get closer to my host family and to know more places in Canada and how they are. After Clearwater we went to Kamloops to swim in an indoor pool which is kind of weird for me because in Mexico indoor pools are usually for training only or private pools so in my case it was my first time going to a pool like that which was a good experience. Later that day we went to the mall where we ate something before heading back to Clearwater and I found a guy that asked me if I speak Spanish and it turns out he is from Peru and came here for an exchange year for his university, so now I got a friend in Kamloops.
This was my trip to Clearwater and Kamloops with my host family, it was very fun, I met some family of my host that I didn't know and I liked them and we played a lot of table games.
Photo and blog post submitted by Andrés, a grade 9 student at Laurie Middle School in Cranbrook.