News
Back to all posts
Posted on:
MGCE participants earn first semester rewards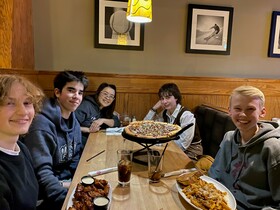 My Great Canadian Experience is an RMISP program launched at the start of the 2022-23 school year to encourage students to make the most of their stay in Canada. Students can participate by sharing their experiences with others through a written blog post, a photo slideshow, or a short video.  Any kind of Canadian experience may be shared - volunteering in the community, joining a school team or club, trying a new food, travelling within Canada, or doing something fun at home or school. 
In the first semester, more than twenty students in four communities participated.  Students described a range of Canadian experiences, which included: attending a professional hockey game, contributing to a school art show, performing in the school band, competing in a rugby match, watching the World Cup with other international students and celebrating a Canadian Thanksgiving. Student experiences can be found at our website (https://www.rminternational.ca/the-rmisp-experience/student-blog) and on our Facebook page. 
Every month, RMISP awards prizes for the best MGCE submissions in each community, and all students who participated at any time were invited to a semester-end celebration with their homestay coordinator.  Students in Kimberley, Invermere and the Elk Valley went out for dinner, and students in Cranbrook got a free lunch delivered to them at school.